At Woodland Retreats, we have a passion for providing the ultimate luxury experience for families and friends to come together and create memories that last a lifetime. Our property consists of two remarkable venues, Hocking Manor and The Timberframe Lodge, both nestled in the rolling hills of Hocking County and surrounded by stunning natural beauty.
Hocking Manor is a 10,300 square-foot brick mansion, complete with beautiful floor-to-ceiling windows, plush carpeting, and stunning Brazilian teak wood flooring. The Manor also features a 40'x18' indoor heated saltwater swimming pool & spa, landscaped grounds, and multiple bluestone patios, making it the perfect place for a tranquil escape.
Prepare to be captivated by The Timberframe Lodge, a grand masterpiece poised to debut in late 2023. With an expansive 13,800 square feet, this lodge is a realm of endless beauty and intricate details. Delight in the grandeur of a 32&39; stone see-thru fireplace and the timeless elegance of a fully restored 1902 Steinway Grand Victorian piano. Gather around the dining room table for 20 or enjoy casual moments at the breakfast bar for 8.
Nestled amid serene meadows, mature trees, and a tranquil private lake, The Timberframe Lodge offers captivating views that extend to starry nights. This is more than a lodge; it's an immersive experience where nature and luxury harmonize.
2 Lodging options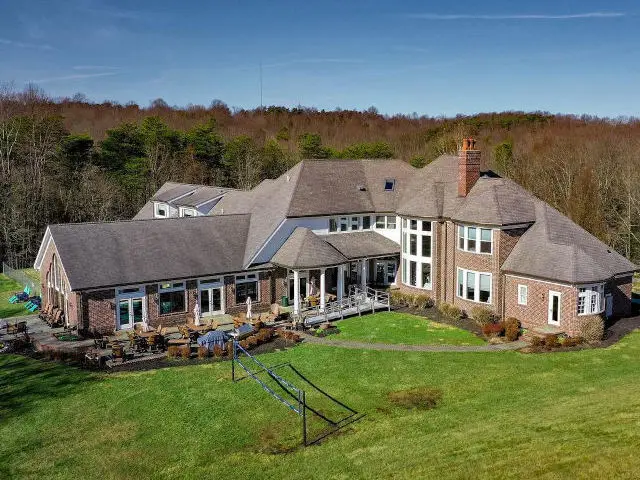 Hocking Manor
Welcome to the Hocking Manor! The perfect escape to your own private oasis - a weekend away, a week or a special event - nestled in the Hocking Hills, with endless amenities is all waiting for you! Please click on details for more information!
Know More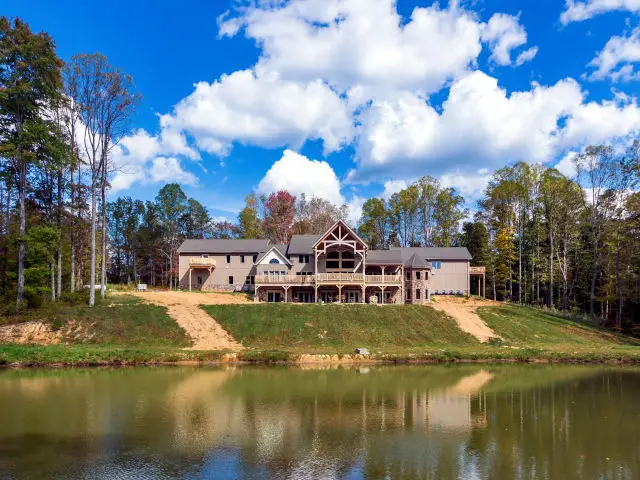 Timberframe Lodge
Welcome to the TimberFrame Lodge - the ultimate lodging experience for mid & long-term stays! When you work hard, your home away from home should serve your full well-being! Look no further we have your answer waiting for you!
Know More
In the Media
See Timberframe Lodge in action! Catch our feature with Mike Kilburn on Out 'n About Columbus and explore the enchantment of Hocking Hills weddings and events
OUR TESTIMONIALS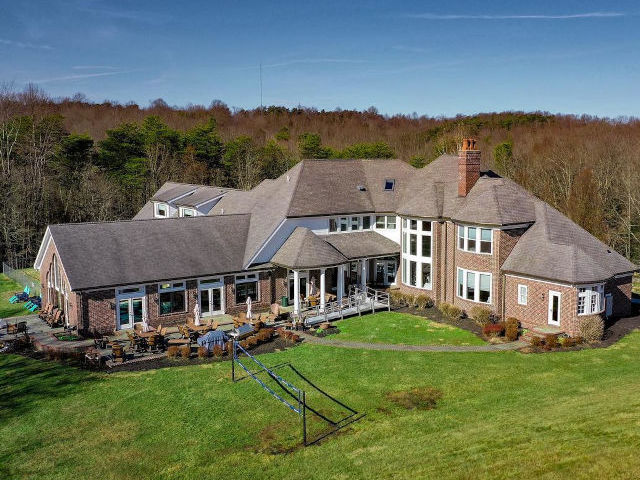 Woodland Retreats
+1 740-385-1892
16187 Kreashbaum Road, Rockbridge, Ohio, 43149, United States
$$$
5
out of
5
stars -
12
votes

Everything about our stay was great. The pool and hot tub, outdoor living space complete with Solo Stove, and the well-appointed bathrooms and kitchen. The space was even decorated for Christmas! We would love to come back again and recommend Hocking Manor to all.

We cannot say enough about this stay. We had friends in from out of town and they were blown away by everything. The rooms, the pool, the Christmas decor, the kitchen , the horses, the fire pit!!! It was all absolutely amazing. Penny has thought of everything. One of the most amazing places I have ever stayed!

We had our family Christmas here and it exceeded all expectations!! The kids absolutely loved the indoor pool and games are in the basement. We loved how everyone had their own space! We will definitely be back!

My family celebrated Christmas at Hocking Manor. It will be memorable for years to come. The house was outstanding and the grandkids enjoyed the indoor pool. Plenty of room for everyone. Penny was very friendly and responsive to all our needs. So glad we had the opportunity to rent this house.

Even better than the pictures which I didn't think was possible. This host has thought of everything! Plenty of space for multiple family members coming together for a Christmas celebration. Perfect in winter, the indoor pool and hot tub temp can be controlled by you. Would be amazing in the summer too! The location is easy to get to. Great WiFi, cell works also.

I took my staff from Jay's Seafood Restaurant in Dayton Ohio for a two day well deserved vacation. It was Perfect for everyone with the bar, arcade games, pool, hot tub and plenty of Televisions. Went for incredible hike behind the house with waterfalls. Cooked an amazing dinner in the beautiful big kitchen. Every bed and chair was comfortable. Plenty of room for all of us! Penny our host was so nice and helpful from my first email. Thank you Penny.

I cannot say enough how amazing this home is and how beautiful it is. It's better in person than the pictures. My friends and i had the best time ever here and we will definitely be coming back! If you are debating booking- do not think any further- book it!

WOW! This place has it all. Wide open and very handicap and elderly accessible which made for a very worry free weekend with two sets of elderly parents with wheelchairs and walkers. Pool was amazing, games, so. many bedrooms the house seems to go on for days! The little kids had their very own top floor area to sleep and create adventures. The kitchen.... oh yes the kitchen! I don't like to ever go to the same place twice so I can create new experiences but I can see coming back to this place again. Made the best memories here with family and are grateful for the ease of the experience.

Took my sons for a boy's getaway. You do not have to leave the property there is so much to do and see. Pool is very large for an indoor pool. Plenty of games in the basement and multiple rooms to relax and watch a movie. House can easily accommodate 2-3 families depending on size. Pictures do not do this place Justice. Patios are very large with plenty of seating. Brought the dogs as well and they had about as much fun as we did. Hundreds of acres and trails to explore. Penny was very helpful and easy to communicate with. Can't wait to go back. Thank you for sharing this wonderful property with my family.

The host was warm and responsive, the house was stunning and inviting, and the setting was peaceful and lovely. We enjoyed everything about our stay. It was close enough to things to do and yet secluded and private for a family get-away. Great amenities indoors and out. Would highly recommend as a place to stay for larger groups/families.

Wonderful stay! Penny was extremely responsive, friendly, and accommodating. The house is in pristine condition and is huge. We had plenty of room and loved all of the special touches throughout the property. Pool room is AMAZING!! The wifi randomly went out during our stay around 8 or 9 pm and Penny immediately responded to my message and walked us through locating the router to reset it. Amazing host, beautiful house! We hope to be back soon!

Lots of fun! GPS was a bit spotty but easy to find! We caught Blue Gill/Sunfish & bass in the ponds. We brought our side-by-side for the trails. There were plenty of trails for that and hiking! Wear shoes that can get muddy and pants to protect from briars! We had corn on the cob and fed the husks to the donkeys & horses <3 The pool & patio space are as great as the pics. We had a fire a few nights. We brought wood but there was already wood there. PLENTY of pool towels, pool toys, sheets, comforters, kitchen supplies, etc. We loved the downstairs ice-maker. The price was pretty high but can't blame them... they put alot of money into the place and there aren't many places that are that handicap accessible! Our father-in-law uses a wheelchair and has one leg; he stayed the whole time and said he had a great time! 8 rooms PLUS the top floor bunk space! There are 2 bedrooms on the main level and a chair lift to go upstairs to the other bedrooms. Thanks for a great family vacation!

The house was absolutely beautiful and perfect for a weekend with family and friends. The house had everything we needed. It was extremely clean and well decorated. Overall, we had a wonderful time and would definitely recommend and book again.

Our rental was tremendous. The hot tub and pool made the stay very special and saved the day when we got rain. We had ample bathrooms and more kitchen appliances than anyone could use. We have no negatives and will seriously consider a second visit.

The house was beautiful and met our needs perfectly. Everything was extremely clean upon our arrival and we appreciated all of the amenities provided. Penny was a fantastic host and very attentive. I would definitely recommend this stay for any other group. Thank you for your hospitality!

Perfect setting for our large family retreat! The house (holy wow!), the land (we hikes, fished, pet the horses and chatted with the sheep) and the excellent service (Penny pre-answered questions and was quick to respond with tips)

I have been using Airbnb since 2013. I have used it in 9 countries and numerous states. Penny is the best host I have ever worked with. She makes you feel that she cares about your trip the way you care about your trip. She went over and above to help us when we had a scheduling snafu that would've ruined the one occasion we have ever had with our entire family. The house is absolutely terrific and exceeds expectations. The bedrooms are spaced out, which is important with a large group; everyone felt like they had privacy. We never left the property. The game room and pool saved us from inclement weather. The kids were in twice a day. We had everything we needed for kids, adults, the pool, and preparation of meals. Toddlers loved the animals. The only downside is the toddlers were in tears when we left because they wanted to stay at grandma's new house. In short- it was wonderful.
Excellent location! There were a few minor maintenance and landscaping issues if someone wanted to be picky. Overall though the venue was absolutely gorgeous and comfortably accommodated 20 people overnight plus more for the wedding. No one felt crowded and the ambiance created an immediate feeling of family. Easy drive from Columbus or Cleveland/ Akron area. The pool, game room, and patio were among many highlights!
Struggling to find a wedding venue that felt intimate and luxurious, I spent months calling and visiting venues. I wanted something that felt like a large, loving family gathering. I didn't want your typical boring, wedding where there was awkward down times and people bot feeling connected. I found Hocking Hills Manor on Airbnb and booked it with Penny. She was amazing! I showed up on Saturday, decorated, had tue wedding Sunday and then got up and cleaned and we left! The property was tucked away down a fairytale lane with horses and cabins! Theres even a little bridge 😍 There is a luxurious kitchen and MULTIPLE spaces for people to relax and connect. Plenty of views of the rolling hills and trees. The photos on tye Airbnb app dont do it justice! There is multiple master suites and is ADA accessible. My mother who is disabled really struggles to get around and it was so awesome that she got to come and really enjoy herself. The garage we draped and decorated and used for the reception area. The bar downstairs with the pool table, bar and lounge area was clutch! Dont even get me started on the spa like pool and hot tub!! 😍😍😍 my photos didn't come out that well but this was the best day of my life and I owe it to Penny and Hocking Hills Manor. For making out wedding every once of our dream wedding.
It's MASSIVE, very clean and beautiful. It's not your average rental, but you can bring the whole family on both sides and still have plenty of room. Oh and the indoor pool & hot tub just add to all the relaxation you could ever need.
We had a wonderful time!!! We had our Christmas party here. It was incredible!! We definitely recommend and plan on staying again!!
26 of us stayed here for a family vacation last month- The hostess Penny, was amazing and catered to our every need. The beds and bedding top notch and comfortable, which to me is a top priority in any vacation rental. much to do in the area and on the property itself- horses, goats, mules, paddle boat and much hiking and house stocked with many games-the kids- 8 of them under the age of 4 we're in heaven. we can't say enough good things about it -pool and patio are resort quality. We have stayed in many vacation rentals and we will definitely be back here
Hocking manor is by far the most elegant, perfectly appointed large family home we have ever rented. Our hostess Penny could not have been more helpful. She heard we were making pizzas and brought extra pizza pans, brought food for the kids to feed the animals, and made sure nothing was missing. The breathtaking property has something for everyone. The kids loved feeding the horses everyday, paddle boating on the fish ponds, hiking, swimming in the large indoor heated pool, (can we just say WOW! About the pool?!?!). The outdoor fire pit was a great gathering place on those crispy November evenings, complete with firewood, matches and pit accessories. And lastly, clean clean clean, we're picky about clean and it was clean!!! We will be back!!!!
More Reviews

We have been in the home rental business for over 45 years, and our passion for providing the ultimate luxurious escape shines through in every detail of our properties. Whether you're looking to plan an intimate gathering or a large celebration, our knowledgeable and handpicked experts are here to make your experience effortless and unforgettable.
❤️ Celebrate Gratitude in a Luxurious Setting.
🎄 Home for the Holidays, in Our Home Away from Home.
🎉 Your New Year, Your Way: Make It Memorable. Valid for a stay now through March 1st, 2024.
Promo Code: JOY24
💰 Book within 45 days of your arrival and automatically get 20% off!
Valid for a stay now through March 1st, 2024.
💝Love, Laughter, and Savings! Lock in Your 2024 Wedding Date and Enjoy 10% OFF. Your Journey to Forever Starts Here🎉
Call +1 740-385-1892 to receive the discount.