Hocking Manor Weddings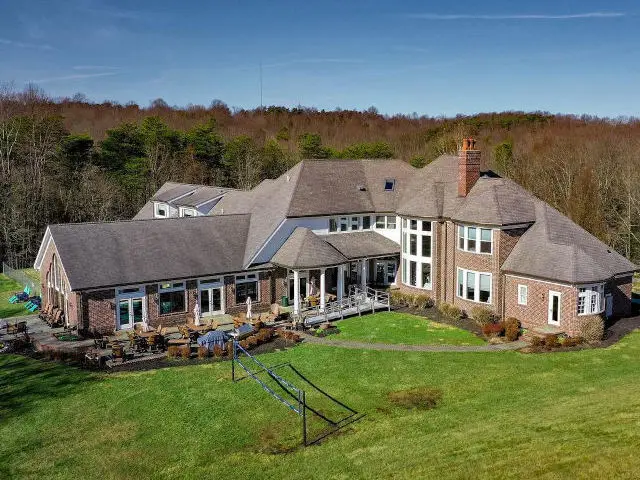 34 Overnight Guests | Pet Friendly | 8 Bedrooms | 7 Full Baths | 3 half baths | Indoor Heated Saltwater Pool | Indoor Hot Tub | Full Bar | Fully Stocked Gourmet Kitchen | Billiards Room | Poker Room | Arcade Games | 250 Acres | Miles of Private Hiking Trails | Spectacular Patio with Seating for 42 | 2 Stocked Catch and Release Ponds with a Pontoon Boat.
A Private Retreat with Endless Amenities.
Choose Your Perfect Package
Run Away with Me
$7800
Up to 30 guests
Venue rental Friday 4:00 pm to Saturday 10:00 pm
Simply I Do
$9500
30 - 75 guests
Venue rental Friday 4:00 pm to Saturday 10:00 pm
The Woodland Experience | Hocking Manor & Timberframe Lodge
$23,500
Up to 100 guests
Venue rental Friday 12:00 pm to Sunday 2:00 pm
Contact Penny for availability at 740-385-1892 or penny@woodland-retreats.com
Elevate Your Dream Day at Hocking Manor Mansion
Personal Wedding Coordinator
Your dedicated point person on your big day. Our experienced wedding coordinator will create timelines, manage vendors, set up the space, direct the ceremony, and ensure everything runs smoothly for a truly beautiful and stress-free wedding.
Rose Bouquet & Boutonniere
Complimentary rose bouquet and boutonniere for the bride and groom.
Complimentary Sweet Offering
A sweet treat for the newlyweds, adding a touch of indulgence to your celebration.
Amenities
Tables, Chairs, and Linens: Set the scene with our elegant furnishings.
Bartender Service
Our expert bartenders will craft delightful beverages for you and your guests.
Exclusive Venue Access
The space is exclusively yours for your wedding eve and day, allowing you to create precious memories.
Friday Overnight Stay
Enjoy a relaxing Friday overnight stay for you, your family, and friends, setting the stage for a perfect wedding weekend. Additional night available at the nightly rate.
Rehearsal Dinner Space
Designated area for your rehearsal dinner, ensuring seamless event planning.
Dedicated Ceremony Site
A picturesque setting for your ceremony, surrounded by the beauty of nature.
Peak Tent with Lighting
In case of inclement weather or for additional event space, our elegant peak tent with lighting is available.
Rehearsal Time Management
Ensure your rehearsal runs seamlessly and efficiently.
Private Chef Package Upgrades
Elevate your dining experience with our private chef package upgrades, providing exquisite culinary delights.
Bar Package
Your Celebration with Our Bar Package
At Woodland Retreats, we're dedicated to ensuring every detail of your wedding is nothing short of extraordinary. Our comprehensive bar package offers a seamless and delightful beverage experience for you and your guests.
Professional Bartending Service:
Our licensed and insured bartending service is at your disposal for a duration of 5 hours, ensuring that your guests are expertly taken care of throughout the festivities.
Crafted Signature Drinks:
To add a personalized touch to your event, we invite you to select two signature drinks that reflect your unique taste and style. Our skilled bartenders will artfully craft and serve these bespoke concoctions, adding an extra layer of charm to your celebration.
Thoughtful Beverage Selection:
In addition to your signature drinks, we invite you to bring a selection of beer and wine, providing a variety of options for your guests to enjoy.
Refreshment Stations:
We understand the importance of keeping your guests refreshed and hydrated. That's why we offer a water station, coffee station, and a range of sodas to quench your guests' thirst throughout the event.
Ice, Ice, Baby:
Rest assured, your drinks will always be perfectly chilled. Our bar package includes an ample supply of ice to ensure your beverages remain cool and satisfying.
Experience a flawless and memorable bar service that perfectly complements your wedding celebration. Our team is dedicated to providing you and your guests with a delightful and stress-free beverage experience, leaving you free to savor every moment of your special day.
Woodland Retreats - Where Every Sip Enhances Your Wedding Experience
We look forward to making your wedding an unforgettable journey into elegance and romance.
We look forward to helping you create the wedding of your dreams at The Hocking Manor!
Contact Penny for availability at 740-385-1892 or penny@woodland-retreats.com